November 15, 2006
Llamapalooza Update
Don't forget, Steve-O and I will be holding forth at the Union Street Tavern in Old Towne Alexandria this Saturday, celebrating the third anniversary of the yips, orgles and delusional rantings that are this here website.
A couple days ago, I mentioned that none other than Melissa Theuriau was planning to attend, she being a great fan of what she endearingly loves to call "Les Booochers". This prompted a suggestion that perhaps we Llamas are a tad too Francophillic in our celebrity infatuations.
What nonsense. Just because we have a thing for Melissa doesn't mean we want the whole damme bunch of 'em!
Anyhoo, to counter this slur, we've hopped in the Way-Back Machine to go and fetch a True, Blue 'Murican gal to also join us. Gents, I give you none other than Lynda Carter circa 1980: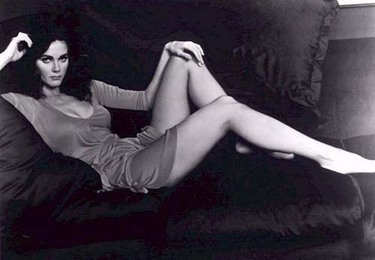 "Bet you boys didn't know that lasso of truth has other magic properties as well..."
(Image stolen from Gary the Ex-Donk.)
Yes! Lynda will be there too! So if you're in the neighborhood, be sure to drop on by. (Oh, and if you could toss a note in the Tasty Bits Mail Sack (TM) so we could get an idea of the size of the turnout, we'd appreciate it.)
Yip! Yip!

Posted by Robert at November 15, 2006 01:33 PM | TrackBack