November 13, 2006
That's My Church!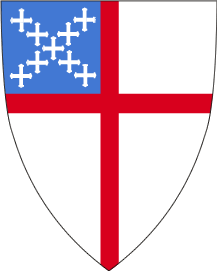 The Colossus sends along a Robbo-baiting article about the recent kick-off appearance of newly-invested High Priestess Katharine Jefferts Schori in Chicago.
Jefferts Schori also believes that the fractured U.S. arm of the Anglican Communion can heal itself while eradicating poverty and halting the spread of AIDS.

"Doing the larger work," she says, will enable the 2.4 million-member church to transcend the differences that divide it--including the debates surrounding gay and lesbian clergy and same-sex blessings.
I've noticed a shift in message in the Church in recent months: When the storm originally broke back during the 2004 General Convention, there was a great deal of earnest mooing about the need for the Church to examine itself and take a fresh look at What It Means To Be An Episcopalian. Yet now that the revolutionaries appear to be firmly in power, we're getting much more of this "Get over yourselves - there are more important things to worry about in the world" kind of rhetoric.
Meanwhile, the splintering proceeds apace. All Saints Church, in Chevy Chase, MD., a very conservative parish in an otherwise very liberal diocese, recently arranged to come under episcopal oversight of Rt. Rev. Edward L. Salmon, bishop of South Carolina, a very conservative diocese. I recently had lunch with a friend whose parents attend there and he tells me that the arrangement was made calmly, amicably and with the full cooperation of the Bishop of Dee Cee, John Bryson Chane.
"This decision by Bishop Chane simply reflects the open recognition in both the House of Bishops and the House of Deputies at General Convention 2006 that 'we are two [theological] minds within one body,' " the Rev. Zadig, Jr. [rector of All Saints], said. "The events on the international and national stage are now playing out on the local level. Despite all that, this generous act by Bishops Chane and Salmon will help us continue a thriving, growing and loving orthodox ministry in Washington ."
Hear, hear. I like to think that this might provide a good model for other parishes working out for themselves exactly where they stand. And it's certainly a lot more healthy than trying to bury the issue.
Posted by Robert at November 13, 2006 04:06 PM | TrackBack