November 09, 2006
LLAMAPALOOZA - Update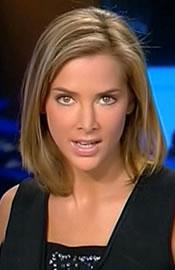 Okay, folks, it looks as if we are on for the Llama Butchers' 3rd Anniversary Llamapalooza Bash, to be held at an as yet undetermined location in the greater Dee Cee area probably on the (early) evening of Saturday, November 18th.
While I apologize for being so vague about the time and place at this point, I do have one concrete piece of good news: I just spoke with French Nooz Babe Melissa Theuriau and she has personally assured me that she will be available to jump out of the cake! Yes! Really! In fact, her exact words were, "Les Llama...Boochers? De quoi parlez-vous ? De quoi est-ce que vous parlez ?"
(So very Gallic. So very nuanced. So very full of possibilities.)
More details to come soon, so start clearing your calendars now!
Yip! Yip! Yip!
Posted by Robert at November 9, 2006 06:12 PM | TrackBack