November 05, 2006
Gratuitous 'Fins Blogging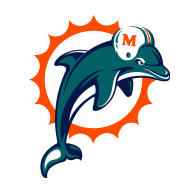 Okay, I've got the house to myself but the only game on locally is the 'Skins/Cowboys game, about which I am fairly indifferent. (Not that I don't have it on, of course.)
However, I just wanted to note that whatever happens for the rest of the afternoon, at 3:01 PM Eastern Time, the Dolphins are, in fact, up on Da Bears by eleven points.
Wooooooo Hoooooooo!!
UPDATE: WEEEEEEEEEEEEEEEEEE-LA!!!!!!!
I'm now in the curious position for a 'Fins fan of hoping that the Pats take out the Colts tonight, solely in order to preserve The Record.
UPDATE DEUX: Mmph. Nancy boys.
Posted by Robert at November 5, 2006 03:02 PM | TrackBack