November 02, 2006
Seriously Gratuitous Historickal Geekery Posting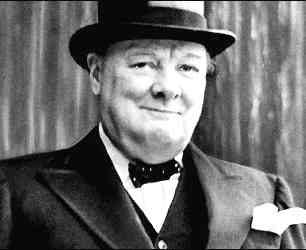 How seriously cool is this? In 1943, Churchill sucessfully negotiated permission from the Portugese to use the Azores for the basing of anti-U-boat forces as well as resupply depots for the trans-Atlantic convoys.
Well, that in itself is not all that terribly exciting. However, what was the basis of the British request? Would you believe the Anglo-Portugese Treaty of 1373, signed by King Edward III of England and Ferdinand & Eleanor of Portugal. This is the Edward III of the Hundred Years' War, the Edward III of the Battle of Crecy, the Edward III of the Black Plague years and the Edward III who established the Order of the Garter.
In other words, this is a 600 year old treaty on which Churchill got to rely. He also got the opportunity to spell the whole thing out in Parliament, discoursing on the original treaty and its subsequent emendations. Knowing what an enormous history buff he was (and being such a one myself), I'm sure this was one of the most pleasurable speeches Winnie ever gave in the Commons.
I'm also sure that to (for example) our pal The Colossus - who knows waaaaay more about Churchill than I do - this is old news. But I'm on my first tour through Closing the Ring and this little footnote is a delightful discovery to me.
Posted by Robert at November 2, 2006 11:44 AM | TrackBack