October 26, 2006
I've Got A Baaaad Feeling About This....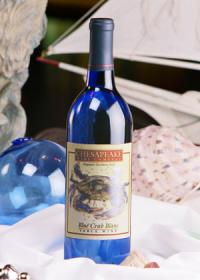 Somebody brought a bottle of Ingleside Vineyards' Blue Crab Blanc to a party we had the other night. The bottle never got opened, and is sitting on the kitchen counter staring at me.
Do you dare me?
On the one hand, I don't even like whites. Further, this stuff strikes me as a prime example of the kind of output from Virginia wineries that I routinely blast and damn.
On the other hand, it is free. (Hoots! Toots! D'ye ken me thrift?) And I like to think that instead of indulging in blanket libel, I take the time to establish a foundation of truth before hurling my invectives.
So it seems that the only thing to do is to put together a pasta and shrimp dish and open the damn stuff. However, although I'm not normally a betting man, I'm already willing to lay odds on the kind of headache I'm going to have as a result.
If I do pull the cork, I'll be sure to let you know how it turns out.
Posted by Robert at October 26, 2006 09:19 AM | TrackBack