September 29, 2006
Gratuitous Llama Netflix Musickal Posting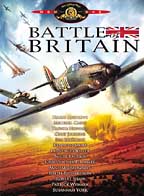 I ran off Battle of Britain the other evening, which I hadn't seen in a while. (I had forgotten what a nifty movie it is.)
Anyhoo, I was reyther startled to notice Sir William Walton's name in the credits for the movie's music. I know that Walton wrote a number of movie scores (most famously Olivier's production of Henry V), but I hadn't thought that he wrote this.
Well, it turns out that he didn't. At least not exactly. Walton did write a score for Battle of Britain but it got rejected by the producers (why, I do not know). Almost all of the movie's music was instead written by Ron Goodwin, a composer with several other military movie scores under his belt. Why the DVD copy still carries Walton's name in the credits is beyond me.
Turns out you can get both the Goodwin and the Walton scores together. I'm no great fan of Walton's music, but I'm almost tempted to do so, just to see how he would have approached things.
By the way, I've had Goodwin's Ace High March running through my mind for two days now.
Posted by Robert at September 29, 2006 08:29 AM | TrackBack