September 25, 2006
Cry Havoc! And Let Slip The Kiddies Of War!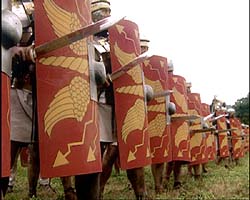 Image found here.
The Second Battle of Watling Street that I wrote about last week is on for this Friday, to be fought out on the grounds of St. Marie of the Blessed Educational Method. I am scheduled to give a little pre-skirmish talk on Roman Briton and then to go out and referee the melee.
The Missus reports a tremendous amount of excitement, particularly among the boys who chose to blue their faces in the Celtic cause. Apparently, this excitement was dampened somewhat when the boys realized that the Romans actually won this battle, but they were restored to cheerfulness by the assurance that they would be able to take down some of the Legions as well.
Of course, in my best Victor Davis Hanson manner, I plan to play up the superior organization and practice of the Roman military machine in the face of the Celtic mob that badly outnumbered it. I also intend to say a few words about the benefits Briton actually received once it came under Imperial control.
On to carnage!
Oh, and yes, in the tragic tradition of Sister against Sister, there will be a Llama-ette in each of the opposing armies. (And yes, I still say "Boadicea" instead of "Boudicca".)
UPDATE: Well, I had been considering how to slip in a "People's Front of Britannia" joke somewhere but it looks like you lot beat me to it.
Posted by Robert at September 25, 2006 04:44 PM | TrackBack