September 06, 2006
Randy Mac Attack - Update
A couple days ago, I posted about the brewing furor over plans by the Randolph Macon Woman's College Board of Trustees to take the place coed.
Well, somebody has been at work rallying the opposition to the barricades, because you can now get your very own anti-coed rally stuff: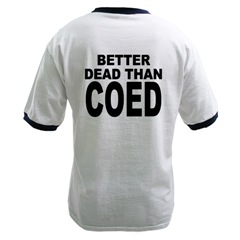 Items include shirts, mugs, buttons aaaaaaand the ever-popular Cafe Press thong. Should be one hell of a protest rally!
By the way, I note the sales pitch:
The Board of Trustees at Randolph-Macon Woman's College is going to vote on a plan to go coed - destroying a century of tradition at one of the nation's finest single sex institutions. Tell them NO. We don't want boys at our Woman's College. Show your support for the cause by wearing these shirts when we march on the Board meeting! NO BOYS!
"No Boys?" Fine. But that means I have every right to continue to refer to the place as a girls' school.
BTW, just in case it's not clear, I'm siding with the traditionalists on this one. Knew you'd be surprised.
UPDATE: Looks like we're beginning to pull some Google traffic over this business. Well, what better way can we aid the RMWC cause than by link-dumping some other anti-coed blogs? Here ya go:
Save Randolph-Macon Woman's College
Skeptical Observer
No Fancy Name (run by a Mary Baldwin alum)
Being Jene (a Hollins alum, I believe)
And lots more.
YIPS from Steve-O: Crickets chirping..... What did I do with that 10 ft pole? Got it around here somewhere.....
Wells. Hood. I could go on. But I'll go with this from last summer in Inside Higher Ed:


Male Impact

Over the next month, Immaculata University and Lesley and Wells Colleges will enroll their first male freshmen — and in the process they seem to be attracting a lot more women as well. Two other institutions that changed from women's to coeducational institutions over the last two years — Chestnut Hill and Harcum Colleges — are also seeing enrollment increases of men and women.

Coeducation is a painful topic to consider at many women's colleges. At Wells, for example, the decision followed years of faltering enrollment and was met with protests and legal threats by some students who wanted the institution to remain all-female.

But in a very real sense, prospective college students vote with their feet, and the numbers at Wells and data from these colleges back the arguments made by the college leaders who pushed to admit men — namely that going coed would attract many more applications.

Over the last five years that Wells was a women's college, it averaged 396 applications a year. This fall's freshman class was selected from 1,012 applications. Based on deposits, Wells expects to enroll 134 students as freshmen this fall, 22 of them men. Wells officials also now believe it is possible to raise total enrollment over the next few years from 425 to 600.

The excitement about male enrollment can even have an impact before there are any men around. Immaculata announced in the fall of 2003 that it would enroll men for the first time in the fall of 2005. That announcement is credited with an increase in the university's freshman class from 82 to 148 from 2003 to 2004. This fall, with male students no longer just a theory, 311 freshmen have paid deposits, and the 111 men in that group outnumber the entire freshman class of two years earlier.

David W. Strauss, a principal of the Art and Science Group, says these increases reflect trends that have been growing for years. "There's no question that most college-bound women these days prefer a coed institution," says Strauss, whose firm advises colleges on marketing and enrollment strategies. (Strauss has advised a number of women's colleges and former women's colleges, but none of those in this article.)

The boom following an announcement about admitting men reflects the qualities of many women's colleges as liberal arts institutions or as colleges known for training students for certain kinds of careers. Once the obstacle of single-sex status is removed, more students may consider these colleges. Indeed, Strauss says that many successful women's colleges are successful because of those qualities. "There are prominent women's colleges that attract very highly qualified students by virtues of the strength of the institution rather than the defining aspect of admission as being women's colleges," he says.

At the same time, Strauss cautions women's colleges from reading too much into the success of their former peers that are admitting men.

"The mistake many institutions make going coed is that they assume that by admitting men, the floodgates will be opened," he says. And even if the floodgates open for a few years, the larger question is "can you sustain it over time?"

One reason colleges that go coed (or make any dramatic change) see increases is that change attracts attention. "When you do something controversial, you get more attention. When you get more attention, you get more interest, and when you get more interest, you get more applications," Strauss says.

Susan Lennon, executive director of the Women's College Coalition, says she is pleased by the success of some of her former members. "I think you are seeing decisions that will enable these colleges to continue their founding missions: to educate women," Lennon says.

Single-sex education "isn't a numbers game," she says, so she doesn't worry about declines in the number of women's colleges. The more important trend, she says, is that more educators and more female students are thinking about what conditions encourage the success of women. Lennon says that the Lawrence Summers controversy has led to much more discussion of these issues, which benefits women's colleges.

As for those that admitted men, Lennon says many factors are involved. "It has to do with your endowment. It has to do with where you are located. There are so many variables."

Three other women's colleges that recently admitted men are:

Chestnut Hill College, which first enrolled men in 2003. Prior to coeducation, enrollment was 347 and this fall it will be 725, with the college expecting the number to rise eventually to at least 1,200 students.
*

Harcum College, a private two-year institution, has seen its enrollment grow from 600, when its board voted in December 2003 to become coeducational, to a projected 750 students this fall — a figure that the college didn't expect to reach until next year. Harcum actually was admitting a few men prior to the 2003 vote, but those numbers have increased since coeducation became official. The college has also added majors in fields such as criminal justice and this year will introduce men's basketball.
*

Lesley College, the original undergraduate college of Lesley University, has been the only part of the larger institution to be restricted to women. This fall, the college will admit its first coed class. Applications were up to 792, from 345. And the number of students who have deposits to enroll is 149, up from 104 a year ago.

The colleges that are admitting men are not those considered in the top tier of women's higher education. And there does not appear to be any movement at the more prestigious women's colleges to admit men. Kevin McCaffrey, a spokesman for Mount Holyoke College, said that the institution hasn't had serious talks about coeducation since the mid-1990s — and that officials feel that the institution is thriving. The last decade has seen a 44 percent increase in applications and completion of a fund raising campaign that raised $257 million (from an initial goal of $200 million).

Many colleges that have gone coed have done so over the objections of students enrolled at the time the decision was made. At Mills College, the board voted in 1990 to admit men, but the board reversed itself following student protests.

After that, "we've never looked back," says Julie E. Richardson, vice president for enrollment management. "There was a sentiment that women who want it deserve a choice for single-sex education."

At Mills, that sentiment is strong. Applications were up 82 percent this year. It didn't require a change of approach, Richardson says, but setting up a marketing department. "We're the same school that we were, but more people know us."

Last fall, 136 women enrolled as freshmen. This year, 205 women already have paid deposits.
There's a college administration at Rourke's Drift analogy there, but I best leave iit alone.
Yips! back from Robbo: Ah, Wells. "The magic of Aurora." Been there. Done, erm, that.
BTW, I had seen that article. Again, I speak in ignorance, but it strikes me that the collegiate market at anything below the national school level is extremely fractured, nichified and complicated. So I would be somewhat skeptical of reading too much of the success stories of some other very small, local schools elsewhere into the Virginia market.

Posted by Robert at September 6, 2006 12:19 PM | TrackBack