September 05, 2006
Hi, Bob!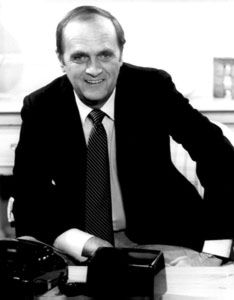 Happy Birthday to Bob Newhart, born this day in 1929 in Oak Park, Illinois.
To my mind, Newhart is one of the funniest comics out there. His deadpan takes on absurd situations never stales.
Growing up, Newhart's Buttoned-Down Mind albums were one of my family's staples. All sorts of phrases and punchlines from Bob's skits (favorites: "The Driving Lesson" and "The Kruschev Landing") made their way into the family lexicon, including;
- "You're going too fast, Mrs. Webb!"
- "No, no, Abe. First a rail-splitter, then a lawyer."
- "He banged the kid with the door!"
- "Ya see, Walt, that's an American holiday."
We were also devoted to The Bob Newhart Show and, later, Newhart. I don't think the latter was quite as funny as the former, but I do think that the series finale was one of the funniest bits every put on network television.
I see, according to the Bob Newhart website, that Bob's autobiography is about to be released. Gonna go on over to Amazon and sign up for that one straight away.
Posted by Robert at September 5, 2006 10:35 AM | TrackBack