July 25, 2006
Happy Birthday, Thomas Eakins!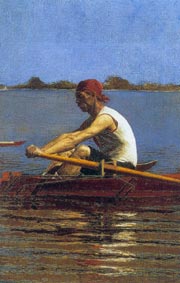 John Biglin in a Single Scull, 1873-74
Born this day in 1844 in Philadelphia, Eakins is no doubt the single most popular painter among those who've ever rowed crew and for obvious reasons. My knees still ache whenever I look at one of his works.
Posted by Robert at July 25, 2006 11:30 AM | TrackBack