May 31, 2006
Wabbit Watch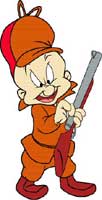 This week I've noticed not one but two of the furry little bastards loitering around the perimeter of the garden. And where there are two now, there's sure to be lots more in the very near future.
Well, forearmed is, er, forearmed. After years of thinking about it, I'm finally ordering the classic Daisy Red Rider. First sign of unauthorized entry and I start shooting.
Say your pwayers, you wascally wabbits!
Posted by Robert at May 31, 2006 05:08 PM | TrackBack