May 19, 2006
Gratuitous Domestic Posting (TM) - Bobivs the Bvilder Edition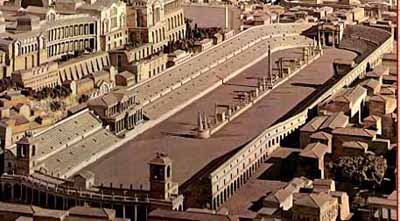 This weekend is going to be crunch time for the construction of the Eight Year Old's model of the Circus Maximus for school. Which is to say that the damned thing is due next Friday and, other than mapping out the dimensions, we really haven't started building it yet. Michael's is going to make a bundle off of me very shortly.
There is a terrible, terrible temptation for parents of children this age to simply take over a project like this and do it for them, a temptation which I am struggling mightily to resist. When I was about the gel's age, my class was made to construct weather-vanes. Dad and I took on the project and by the time we got through, we had the best damn weather-vane in the entire class. In fact, it was so good that it got displayed in the school library. However, I wound up feeling guilty and sheepish about the whole business because I knew that in the end I hadn't contributed much more to the construction process than to stand around and hold things. Dad certainly meant well, but I don't want to repeat that process here.
On the other hand, it wouldn't be fair to leave the gel completely to her own devices either: she's never done anything like this before and wouldn't have the slightest clue even where to begin. As a result, she would only wind up feeling frustrated and foolish. Again, not really the goal of the exercise.
It's a tricky path to navigate, to be sure, but I like to think that a significant first step in doing so is to actually be aware of the dangers involved and to keep them in mind at all times. In order to avoid the Scylla and Charybdis of too much or too little parental participation, my plan is to maintain the roles of both master architect and construction foreman, but to try and explain as much as possible of these things to the gel as we go along. I will also leave to her most of the actual hands-on duties, apart from cutting and the like.
We'll see how it goes.

Posted by Robert at May 19, 2006 09:51 AM | TrackBack