May 18, 2006
Gratuitous Llama Book Review - UPDATE
As I mentioned below, while on my travels this week I polished off this: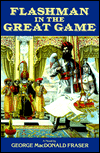 Flashman In The Great Game: From the Flashman Papers 1856-1858, by George MacDonald Fraser.
Let me first of all retract some of the concerns I recently raised after dipping into the first of the Flashman novels. Having read this, one of the middle books of the series, I see Fraser in his stride and am able to recognize some of the earlier heavy-handedness as simply a by-product of the author finding his footing.
The instant novel has our rogue hero, Harry Flashman, scrambling for his life in the midst of the Sepoy Mutiny of 1857 in India. Fraser does what I think a very sound job at describing that episode in detail. He is neither knee-jerk nor apologetic, but gives a solid description of both the British and native concerns, motives and errors that led up to the rebellion, as well as a fair description of the conduct of both sides during its outbreak, height and aftermath.
Nonetheless, Fraser is no rubber-stamp relativist. There were numerous times when I had to turn my eyes away, literally gasping in horror at his descriptions of the massacres of the women and children of the British garrisons at Meerut, Jhansi and Cawnpore by the Sepoys and the local mobs. The atrocities were even enough to get up the blood of Flashy - who as a rule don't give a damn about anyone or anything but himself. And when Fraser (through Flashy) goes on to describe some of the extremely harsh British retaliation for these atrocities (retaliation that almost leads to the end of Flash Harry himself) and for the Mutiny as a whole, he takes pains to make sure the reader understands what the Brits themselves were thinking at the time and why they believed they were justified in such action.
Of course, tragic history lesson aside, the book never gives up on Flashy's love of the life roguish. As an example, imprisoned in an underground cell at Gwalior at the hands of the beautiful rebel Lakshmibai, waiting either for British rescue or for his throat to be cut, what does he do to keep himself from going mad but count up the number of women he's had to do with over his career?
That's our Flashy.
Posted by Robert at May 18, 2006 12:42 PM | TrackBack