May 09, 2006
Gratuitous Civil War Posting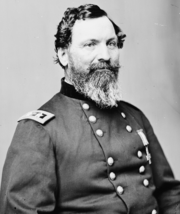 Union General John Sedgwick
Today is the anniversary of the death of General John Sedgwick in 1864 during the Battle of Spotsylvania Court House. Known as "Uncle John" among his troops because of his care for them, his demise was one of those sick little jokes that Death seems to enjoy playing on the battlefield sometimes.
Major-General Marton McMahon, Chief of Staff of Sedgwick's VI Corp, was an eyewitness:
He was an inveterate tease, and I at once suspected that he had some joke on the staff which he was leading up to. He was interrupted in his comments by observing that the troops, who during this time had been filing from the left into the rifle-pits, had come to a halt and were lying down, while the left of the line partly overlapped the position of the section of artillery. He stopped abruptly and said, " That is wrong. Those troops must be moved farther to the right ; I don't wish them to overlap that battery." I started out to execute the order, and he rose at the same moment, and we sauntered out slowly to the gun on the right. About an hour before, I had remarked to the general, pointing to the two pieces in a half-jesting manner, which he well understood, " General, do you see that section of artillery? Well, you are not to go near it today." He answered good-naturedly, "McMahon, I would like to know who commands this corps, you or I? " I said, playfully, "Sometimes I am in doubt myself"; but added, " Seriously, General, I beg of you not to go to that angle; every officer who has shown himself there has been hit, both yesterday and to-day." He answered quietly, " Well, I don't know that there is any reason for my going there." ' When afterward we walked out to the position indicated, this conversation had entirely escaped the memory of both.

I gave the necessary order to move the troops to the right, and as they rose to execute the movement the enemy opened a sprinkling fire, partly from sharp-shooters. As the bullets whistled by, some of the men dodged. The general said laughingly, " What! what! men, dodging this way for single bullets! What will you do when they open fire along the whole line? I am ashamed of you. They couldn't hit an elephant at this distance." A few seconds after, a man who had been separated from his regiment passed directly in front of the general, and at the same moment a sharp-shooter's bullet passed with a long shrill whistle very close, and the soldier, who was then just in front of the general, dodged to the ground. The general touched him gently with his foot, and said, " Why, my man, I am ashamed of you, dodging that way," and repeated the remark, " They couldn't hit an elephant at this distance." The man rose and saluted and said good-naturedly, " General, I dodged a shell once, and if I hadn't, it would have taken my head off. I believe in dodging." The general laughed and replied, "All right, my man; go to your place."

For a third time the same shrill whistle, closing with a dull, heavy stroke, interrupted our talk; when, as I was about to resume, the general's face turned slowly to me, the blood spurting from his left cheek under the eye in a steady stream. He fell in my direction ; I was so close to him that my effort to support him failed, and I fell with him.
Posted by Robert at May 9, 2006 01:07 PM | TrackBack