May 02, 2006
Gratuitous Civil War Posting
Today is the anniversary of Stonewall Jackson's famed 1863 flanking march during the Battle of Chancellorsville, in which Jackson took his division clear around the Union Army, made a surprise attack against its right flank and ended the day accidentally shot by his own men, dying eight days later from pneumonia.
Here is a map of Jackson's route: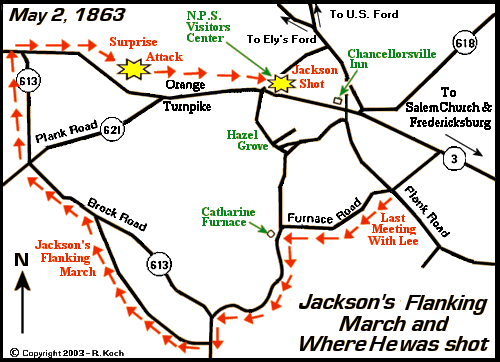 (Image found at this site, which contains many more Civil War maps and photos.)
The Battle of Chancellorsville has been called one of Robert E. Lee's greatest victories. I happen to disagree with this conclusion, believing instead that while Lee made the best of the situation, he was more lucky than anything else.
Following the disastrous Federal attack on the Confederate positions at Fredericksburg in December, 1862, the Union puzzled mighty hard as to how to dislodge Lee from his stronghold. The answer was devised by "Fighting Joe" Hooker, the general who replaced Ambrose Burnsides after Fredericksburg. And indeed, it was a very good one: Hooker would cut off Lee's supply line with a massive cavalry raid (there was only a single rail line leading into Fredericksburg) and, at the same time, quietly decamp, move upstream, cross the Rappahanock and come down on Lee's flank. Hooker reasoned that once he was across, Lee would have no choice but to come out after him. Meanwhile, Hooker would send another force across the river at Fredericksburg to get behind Lee. Caught in this pincer, Lee would be crushed by the firepower of the Federals.
As far as moving his army, Hooker's plan worked brilliantly: he had left his position opposite Fredericksburg and got across the river upstream before Lee even realized he was moving. This was the result of superb administrative organization and a complex ruse de guerre that involved bogus signals, simulated camp life and other measures designed to make it look as if the Union Army was still snuggly in place. Federal military intelligence was handled by Allen Pinkerton. He is notorious to Civil War history buffs because of his wildly inaccurate estimates of enemy strength. But in this matter, he did very well indeed.
Once Lee got wind of the Federal movement, he did indeed come out to face Hooker. Here, I think, is where Lee got lucky: although Hooker's plan was extremely good, the man simply lost his nerve when it came to the actual fight. This started when the Federal raid against Lee's supply-line went awry, Stoneman (the cavalry commander) going off on a wild goosechase. Hooker became convinced that Lee would draw up reenforcements to confront him and, despite the near unanimous wish of his subordinate commanders to the contrary, proceeded to advance east from the river fords in a pokey, hesitant manner.
Jackson's flank march may or may not be seen as the final straw that broke Hooker's resolve. There had been some warning of it, but this was later dismissed and, indeed, Hooker thought Lee might even be retreating. When Stonewall's men crashed into O.O. Howard's 11th Corp late in the day of May 2, the Federals were caught absolutely flat-footed. Dusk and localized Federal resistance eventually absorbed the attack, but not until the Union forces had been pushed back a considerable distance. It was in the confusion that Jackson was shot - while coming back from reconoitering the Federal positions - by men of a North Carolina regiment.
From there on out, Hooker had already lost. He still vastly outnumbered Lee and even after Jackson's attack, could have crushed the Army of Northern Virginia. Indeed, Hooker had three fresh divisions in reserve - those of Meade, Reynolds and Hancock, whose commanders repeated urged him to turn them loose. But Hooker couldn't bring himself to do it. Instead, he consolidated his forces into a near circle protecting the river fords and slowly let himself be pounded to rubble under the Confederate guns.
So as I say, it is certainly true that Lee made the best of his forces in the face of overwhelming odds. But I believe that had he faced a Union commander with more resolve than Hooker, the results would have been considerably different. The Federals could very well have crushed him. Lee wouldn't be praised for his daring, but instead be castigated for splitting his forces and running desparate and needless risks. I suppose that's just the way things work out.
Incidentally, if you're interested in this battle, I would recommend this book:

Chancellorsville by Stephen W. Sears.
It gives a very clear account and is particularly fascinating in its description of Pinkerton's intel ops that set up the battle.
Posted by Robert at May 2, 2006 08:42 AM | TrackBack