April 25, 2006
Gratuitous Royal Navy Geek Posting (TM)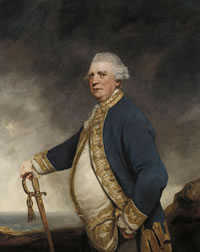 Happy birthday to Admiral Augustus Keppel, 1st Viscount Keppel, born this day in 1725.
Keppel went to sea early, sailed with Anson aboard the Centurion in her round the world cruise in 1740 and was Captain of HMS Torbay in the critical Battle of Quiberon Bay during the Seven Years' War. Unfortunately, he became embroiled in political in-fighting during the American Revolution and despite the fact that he became an Admiral and later a Member of Parliament and First Lord of the Admiralty, his career more or less petered out with his political fortunes.
UPDATE: Speaking of Anson's circumnavigation, fans of Patrick O'Brian's Aubrey/Maturin series may not know of his first sea novel, The Golden Ocean, which tells the story of this expedition. He also wrote The Unknown Shore, about the shipwreck of the Wager, part of Anson's squadron, on the coast of Chile. Interestingly, this novel follows the exploits of a pair of young men who resemble a sort of protoplasmic Jack and Stephen. Both books are well worth reading, although The Golden Ocean is the better work.
Posted by Robert at April 25, 2006 09:17 AM | TrackBack