February 10, 2006
Who Put The "Oomp" In The "Oomp Pah Pah-Pi-Pah"?
Well I certainly didn't expect this.
But it reminds me of something. (Just stay with me for a second here.) When I was a kid, I remember seeing an old clay-mation cartoon about a tuba that was sad because it was the only instrument in the orchestra that didn't get to play a tune of its own. This tuba winds up meeting a frog or somesuch that teaches it a low, croaky, hummy sort of song for its very own. The tuba takes the tune back to the orchestra and plays it to their accompaniment and everybody is happy. That tune, or some permutation of it, has been stuck in my head for about 35 years now. And I almost think the story is based on a real classical piece - perhaps by one of the more modern Russians.
If this rings a bell (so to speak) with anyone, let me know. Otherwise, I'm going to have to have a long talk with Mom about what she was putting in my spaghettios.
Yips! to Oboe-wan-CalTechGirl.
UPDATE: This is the guy: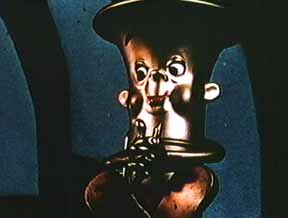 Tubby the Tuba (1947)
Here's a site about it. Apparently, what I remember as clay-mation was actually something called a puppetoon.
Thanks, Utron!
Posted by Robert at February 10, 2006 12:20 PM | TrackBack