February 09, 2006
Gratuitous Historickal Posting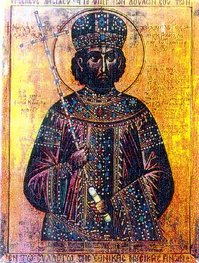 Today is the birthday in 1404 of Constantine XI, the last Emperor of the Byzantine (or Eastern Roman) Empire. (Go here for a brief description of Rome's imperial successor.)
By the time of Constantine, the Empire (which had reached its greatest power in the 9th and 10th Centuries, dominating the Eastern Mediterranean) was a mere shadow of its former self, consisting of not much more than the city of Constantinople itself, its immediate environs and one or two outposts. In 1452, the Ottoman Turks rolled in and, after a nearly two month siege, captured Constantinople, thus finally ending the Empire. Constantine fought until the end. When the Turks breached the walls of the city, he recognized its doom, tore off his cloak and charged into the mass of his enemies, never to be seen again. Steven Runciman's The Fall of Constantinople, 1453 is an excellent book on the subject.
I still remember the chill I got when I realized that the last of the Roman Emperors died a mere 49 39 (forgot to carry the one) years prior to Columbus's discovery of America and that Europe's westward exploration was the direct result of the panic caused by this symbolic victory of the rising Ottoman power in the East. We often think of ancient and modern history as being disconnected, but in learning about this I saw for the first time how closely sutured together they really are.
Man, I love history.
Posted by Robert at February 9, 2006 12:57 PM | TrackBack