January 31, 2006
CSI: Frostbite Falls - Update
Yesterday I noted that the eldest Llama-ette and her best friend were planning to investigate the demise of a squirrel in the friend's back yard.
When I picked her up last evening, the Llama-ette reported that the squirrel's body had vanished before she and her partner were able to examine it in detail, but that they had been able to make out a solitary track in a nearby patch of mud. By means of further research, the girls determined that the track was most likely that of a fox.
Based on these leads, police have issued the following suspect sketch: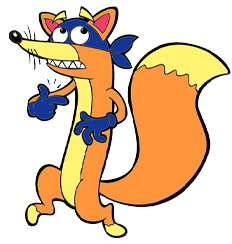 If you see this suspect, say "Swiper, no swiping!" three times.
UPDATE: Welcome INDCent Bill fans! 'Cept I don't know what Bill means by "play with dead animals" - I expected her to bring the thing home and cook it fer supper!
[Cue banjo musical sting]
Posted by Robert at January 31, 2006 09:29 AM | TrackBack