January 19, 2006
CBS News And The Chance Of A Lifetime
CBS reportedly is seeking "an outsider" to fill its prime noozanchor spot.
"I think having one person as your primary anchor is the way to go," [Sean] McManus said. He confirmed that the new anchor would come from outside of the existing CBS News stable and that he and CBS Corp. chief Leslie Moonves are eyeing a "relatively" short list of candidates.
Message to McManus and Moonves: FOR THE LOVE OF GAWD! THE OBVIOUS "OUTSIDE" CHOICE TO PUT CBS NOOZ AT THE TOP OF THE RATINGS CHART FOR THE NEXT TWENTY YEARS IS RIGHT IN FRONT OF YOU: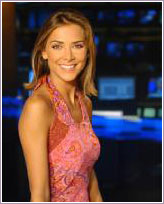 For once in your corporate life, we're begging you - Do the Right Thing!
(For c.v. and all other Things Melissa, go here.)
UPDATE:
TOP TEN REASONS "CBS NEWS ANCHOR MELISSA THEURIAU" WOULD ROCK

10. The chance to see Katie Couric have nervous breakdown on national television.

9. Alan Greenspan might stick around at the Fed for a few more years in hope that she'll interview him.

8. Satisfaction of knowing the French have no one left but Jerry Lewis.

7. Aggressive coverage of next hurricane sure to be augmented by "wet anchor" feature.

6. No need for CBS to waste money on expensive fact-checking because, let's face it, who the hell's gonna care?

5. Because even, "Iran nuked Tel Aviv today," sounds marginally better when spoken in a sultry French accent.

4. Instead of muttering "courage" or some other silly catch-phrase at end of broadcast, she'll just blow kiss.

3. During each sweeps period, promise to do at least one Sharon Stone-style leg crossing.

2. New promotional slogan: CBS - The Other Fox News.

1. "Zat storee may be fake, but zeez aren't!"

YIPS from Steve: Screw Porkbusters and their goody-goody squeaky clean government crap---we need to get NZ Bear to let us list the "Theuriau Lusters" group.
This engagement will not stand!
Posted by Robert at January 19, 2006 03:10 PM | TrackBack