December 23, 2005
Gratuitous Domestic Posting (TM) - Outdoor Division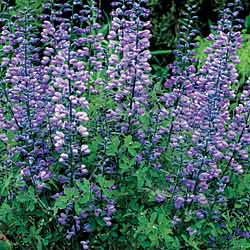 Baptista - Purple Smoke
Even though we're well into the depths of winter, the latest round of gardening catelogs has arrived and I'm starting to chew on ideas for the spring planting.
A couple of years ago, I tried to plant some lupines in my garden. Unfortunately, it really is just too hot for them here. This has always bothered me because, like Dennis Moore, I'm very fond of them.
Well, it seems the folks at Wayside Gardens have been reading my mind, because this year they're flogging wild indigo (Baptista) as an alternative. In addition to the purple pictured above, they also carry yellow and white varieties.
I'm strongly inclined to give it a try. Any of you gardeners out there have an opinion on indigo?
Posted by Robert at December 23, 2005 10:27 AM | TrackBack