December 20, 2005
"I don't know exactly how to explain every one of these bizarro stories that you hear."
The LA Times has an article up about the secret rebel base Scientology HQ at Gilman Hot Springs, CA, that's chock-a-block with rich, loony goodness, including this tidbit about franchise celeb Tom Cruise:
Maureen Bolstad, who was at the base for 17 years and left after a falling-out with the church, recalled a rainy night 15 years ago when a couple of dozen Scientologists scrambled to deal with "an all-hands situation" that kept them working through dawn. The emergency, she said: planting a meadow of wildflowers for Cruise to romp through with his new love, Kidman.

"We were told that we needed to plant a field and that it was to help Tom impress Nicole," said Bolstad, who said she spent the night pulling up sod so the ground could be seeded in the morning.

The flowers eventually bloomed, Bolstad said, "but for some mysterious reason it wasn't considered acceptable by Mr. Miscavige. So the project was rejected and they redid it."
Click on over and read the rest. Feel free to snicker, but remember that you're probably being monitored.
Yips! to Jonathan V. Last.
UPDATE: Oh, what the hell - I'd been wondering what kind of excuse I would need to put up this picture....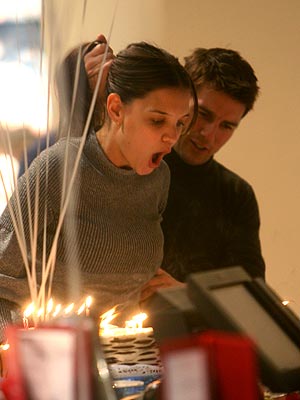 "The staff was up all night baking Mr. Hubbard's birthday cake! You blow out those candles RIGHT NOW!!!"
Posted by Robert at December 20, 2005 09:40 AM | TrackBack