December 13, 2005
Aaagh!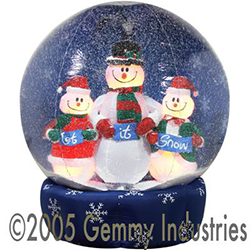 What is worse than the concept of the Giant 8 Foot Inflatable Snow Globe? How about this message from the seller's website:
Unfortunately, we have sold out of this item and it won't be available until after Christmas. Please take a look at our other Holiday Decorations or Gift Finder to help you with your Holiday Shopping Needs!
Sold out! What is wrong with people? Words. Fail. Me.
Just who the hell thought up this kind of abomination to begin with? Our neighbors up the street put out a giant inflatable snowman last year. This year, the thing seems to have reproduced. Not only is it back, there's also a giant Santa and something I haven't quite been able to identify yet which looks vaguely like E.T.'s Nativity.
If it gets any worse, I'm going to start sniping with my pellet gun. See if I don't.
Yips! to Dave Barry.
UPDATE: Well, it could be worse after all.

UPDATE DEUX: Okay, much worse.

Posted by Robert at December 13, 2005 01:48 PM | TrackBack