December 07, 2005
GOODNESS GRACIOUS GREAT BALLS OF FIRE!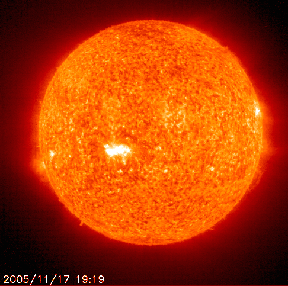 I was reading during lunch some cool stuff about the solar minimum and space weather. Does anyone have any good suggestions about reading up on this stuff? The whole concept is new to me.
BTW, this was cool. In a dorky way, of course.
Yips! from Robbo: Way cool. And speaking of such things, the O.F. directs me to this site: The Gulf of Maine Ocean Observing System. If you're interested in detailed information on current atmospheric and oceanic conditions between Boston and Yarmouth, Nova Scotia (and who in their right mind wouldn't be?) then this is the place for you. Click now and thank me later.
Posted by Steve at December 7, 2005 12:54 PM | TrackBack