December 06, 2005
VOTE LLAMABUTCHERS: WE'LL MAKE YOUR WILDEST DREAMS COME TRUE!
Okay, so we never really got into the whole "Porkbusters" thing that Insty and his posse of bloggie do-goodniks organized over the fall.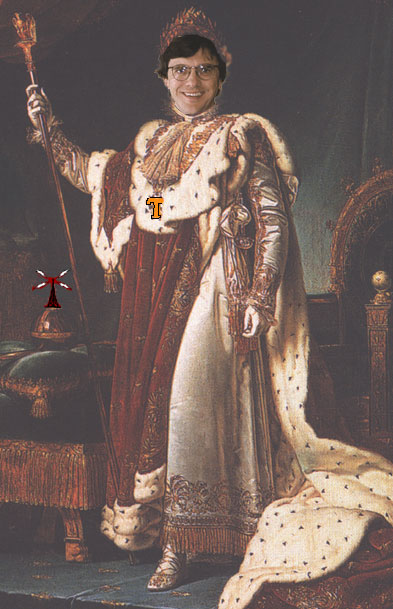 All hail Emperor Traffic Santa I
We didn't join in....well, we were to Porkbusters what Mundungus Fletcher was to the Order of the Phoenix: we're opposed to the overall harmful effect to the public interest posed by Voldemort/uncontrolled Congressional spending, but if something were to come our way having innocently fallen off the back of a truck, we wouldn't want any nasty conflict of interest now, would we?
So, instead of "Porkbusters" the LLamabutchers would like to propose "Melissalusters"---an internet/blog based public pressure campaign to get CBS News to appoint hottie French nooz babe Melissa Theuriau as anchor of the CBS Evening News.
This is the vision we have: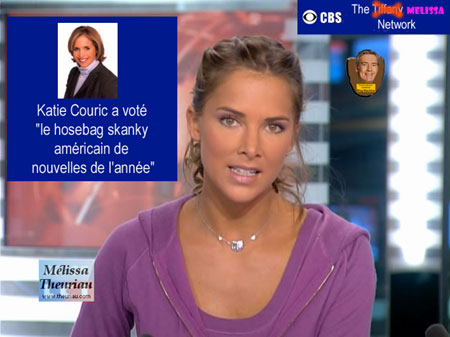 Potential downsides:
1. She's French, and she doesn't speak English
Come on, American tee-vee is chock full of Canucks--what's a little international solidarity and cooperation among ancien amis, eh?
Transforming the Tiffany Network into the Melissa Network: this is CBS's chance to lower their demographic by about 50 years and a Y chromosone.
So that's today's reason to go vote for the LLamabutchers in this year's Coveted Bloggies competition. Remember, you can vote once per day per computer---and yes, Liz, that was me in the computer lab yesterday afternoon checking, ummm, the browser settings on all the computers...
SPECIAL EXTRA REASON TO VOTE LLAMAS INSTEAD OF THAT PURITAN SONDRA K:
Here's what the world will look like if Sondra K wins "Best Culture Blog"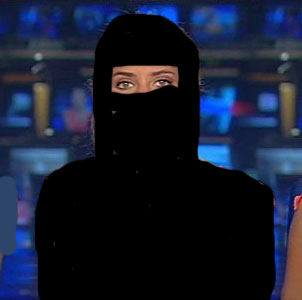 'nuff said.
Posted by Steve at December 6, 2005 07:54 AM | TrackBack