November 26, 2004
Blogosphere triumphalism run amok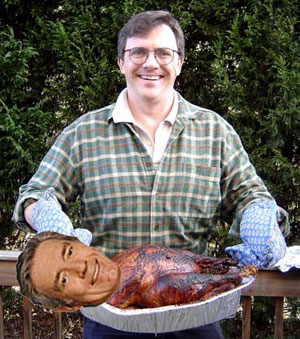 Personally, I'm absolutely disgusted with this display of the blogosphere triumphalists run amok! Have you no shame Professor Reynolds?
(With apologies to Neuman, for the episode in which he dreamed Kramer was a giant roasted turkey....)
UPDATE: Did anyone else make the mistake of watching the Seinfeld "special" last night? Was it just me, or was that the stupidest such thing since the Beatles thing a couple of years back? And when did Mike Richards get so old? He looks like he's aged 30 years since the series ended. And was Jason Alexander always such a pompous twit?
UPDATE DEUX: What, he's got a blender on the deck now? Has he no shame?
Posted by Steve at November 26, 2004 12:26 PM | TrackBack