November 19, 2004
More Shamefully Gratuitous Holiday Book Blegging
It's something of a tradition in my family that I'm not allowed to go to a bookstore any time between Halloween and my birthday in late January, for fear that I will wind up buying something someone else had meant to give as a present, thereby laying them a dead stymie. (The tradition is built, in part, on the horrid urban legend that it is difficult to shop for me.)
Anyhoo, as some of you know, I've been posting a few books that I would like to receive, in the hope that Santa is a fan of the Llamas or else that members of my family will pass on the information to him. Here are a couple more: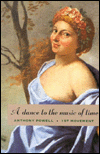 A Dance To The Music of Time, Vol. 1., by Anthony Powell. Back in September, some of the members of the bloggy literary circle, round the edges of which I hover (Mr. Soames and Stephen of Stephenesque come to mind), recommended that I give Powell a try, given my Waugh-like temperment. I am all for it. If Volume One pans out, then Volumes Two through Four can be considered gimmes for the ol' birthday.


C.S. Lewis and the Catholic Church, by Joseph Pearce, and Tolkien and C.S. Lewis: The Gift of Friendship, by Colin Duriez. (Amazon offers them as a nifty twofer.) I've read a good bit of Lewis and a lot of Tolkien, but never that much about either man. Indeed, it was only recently that I was rather astonished to learn Lewis was not Catholic, despite his very, very Catholic-sounding theology. This bears considerable more investigation on my part, especially given my own recently reignited questioning.

21: The Final Unfinished Voyage of Jack Aubrey, by Patrick O'Brian. This is the rough, three-chapter draft of the Aubrey/Maturin novel O'Brian was working on when he died and would have been the 21st of the series, as the title implies. I thought I had read at one point that O'Brian's estate did not want this book published, but never followed the story that closely. Either my memory fails me or else the objections were overcome.
Actually, I am extremely torn about this book. On the one hand, it would complete my set, of course. It also would be a fascinating glimpse into the inner workings of O'Brian's craft, much the way Sunset at Blandings, P.G. Wodehouse's last, incomplete novel, was of his work.
On the other hand, I find I am much more emotionally involved in O'Brian's work than Wodehouse's. The keen pleasure I derive from reading and rereading the adventures of Aubrey and Maturin up to and including The Wine-Dark Sea, the 16th in the series, is offset by my distress over the last four complete novels (The Commodore, The Yellow Admiral, The Hundred Days and Blue at the Mizzen), which encompass such a decline in spirit, such a fall from greatness, as to be painful to read. I can read Sunset at Blandings with detached interest. I'm not so sure I could do so with 21. Has anyone else out there read this book? If so, please let me know what you think about it.
Posted by Robert at November 19, 2004 10:23 AM | TrackBack