November 17, 2004
Stop the FCC's puritanical campaign!
As everybody has been talking about, ABC Sports is in beeeg trouble with the FCC for broadcasting this sequence at the beginning of Monday Night Football: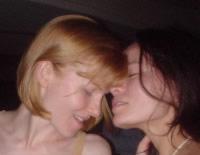 (this is just a single screen shot of a longer, unsafe for work video)
I think I can speak confidently for the rest of Amerika by pleading---FOR THE CHILDREN, MAN!---no more Wonkette on Washintonienne on John Madden videos!
My eyes----they burn!!!!
Posted by Steve at November 17, 2004 11:46 PM | TrackBack