October 29, 2004
The return of Osama and Evil Bert
Now we know why Allahpundit has been so quiet as of late: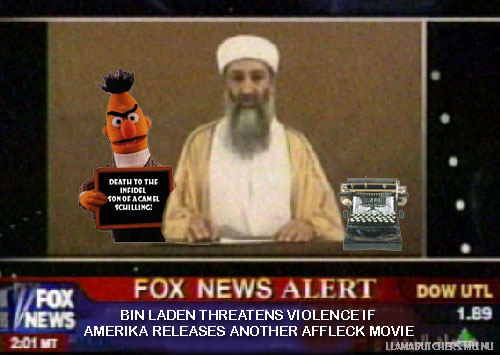 Color me unimpressed. I mean, sure, rip off a Kurt Russell movie---but Nick Nolte? Is that all you got?
UPDATE: The great people's soviet at the Blogingrad Traktor Works is open all night to discuss the return of OBL. Why am I unimpressed? "He" uses the word "mess"---as in don't mess with Texas. Riiiiiiight. Rusty seems to think this will restoke the fire on our part. I don't know---perhaps it really is him, but it is this new improved mellow Osama courtesy of Wellbutrin XL--with none of the persistent side effects of the old formula (you know, dry mouth, genital itching, impotence, weight gain, desire to spread fire-ee sword of Allah for some serious smotage of the infidels....) You know, a fellow can get through a lot of issues with three years of therapy---I mean, he did shed those harsh autumn colors (camoflage was just so not his color!) for some nice spring tones. Wizbang has pronounced no verdict yet. Michele is underwhelmed, and compared to the continuing threat to the nation posed by an impending "Night Ranger" reunion tour, puts things in perspective.
INDCent Bill investigates the Osama/Moore/Carter connection, which we remember from the Democratic Convention: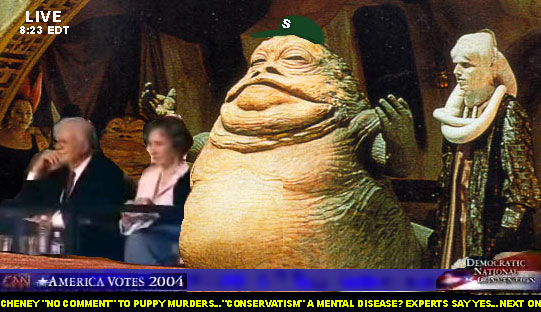 Bill also provides his translation, which is worth the price of admission. Cabal of Doom sees a conspiracy: forget The Falcon and the Snowman and go for Osama and the Donut Eater. And Goldstein? Well, it's what you'd expect, the usual Samuel Johson in Vegas on a 72 hour mescaline binge. Key passage:
"Iíll say it: I sincerely hope our intelligence agencies have surreptitiously violated the civil liberties of enough US-based Islamist sympathizers to glean the information theyíre going to need to thwart any impending attack.

Iíll go back to being a libertarian once bin Ladenís head is stuffed and mounted on the front of a yellow Cadillac convertible with Texas license plates. "
Dangerously, Dick Morris is employing the "Goldstein/Diamond Nipples" hypothesis and declaring a Bush victory. With allies like that.....The Demosophist wonders about the effect of this on blue collar voters: my sense is if the people of Ohio didn't cater too well to the Guardian trying to influence their votes, they sure as hell won't want bin Laden to. Ace of Spades has a little fun at the expense of Axis Sully and Kaus.
SECRET MESSAGE FOR THE FROGMAN: Dude, you're not eating crow, you're smoking the cigar---you're the man who smoked bin Laden out! Meanwhile, Nicole is serving the crow out with some spot on thoughts.
IN ALL SERIOUSNESS Wretchard--of course!--nails it, by looking at what bin Laden is not> saying....
Posted by Steve at October 29, 2004 11:49 PM