September 23, 2005
Time For A Cup O' Joe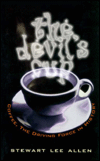 A while back, regular reader Utron recommended that I check out this book, The Devil's Cup by Stewart Lee Allen. The book purports to be a history of the influence of coffee drinking on mankind's development.
I won't review it here since I'm still only about two thirds of the way through. So far, though, it's quite entertaining, being in part a kind of hippie travelog, and in part a layman's history of the ol' java bean. At least as far as raw data about the various types of coffee and coffee preparation throughout history are concerned, I find it quite informative. I'm less inclined to trust some of Allen's hypotheses, however, since he starts out from a number of positions one more or less assumes a writer for Mother Jones would take.
But what I've mostly noticed since starting to read the book is that my own coffee consumption rate has just about doubled. Just reading about it makes me want a cup in the worst way.
And now typing this has got me thinking about it yet again.....
Vade retro, damned Java!
And thanks, Utron, for the serious, serious caffeine buzz I've been carrying around all week!
Posted by Robert at September 23, 2005 06:21 PM | TrackBack