September 23, 2005
"I Have Not Yet Begun To Fight"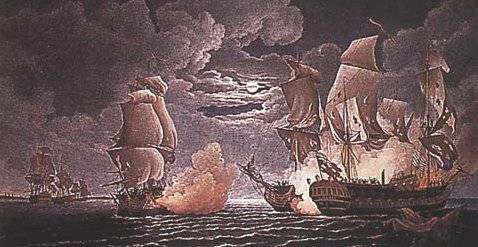 Today is the anniversary of the Battle of Flamborough Head in 1779, in which the Bonhomme Richard, under the command of John Paul Jones, defeated H.M.S. Serapis under the command of Captain Richard Pearson. Here is an account of the battle. The Serapis could both outsail and outgun the Richard. Jones won the battle by getting close enough to lay his ship along side his opponent and then hang on like grim death. Unfortunately, it appears that Jones never actually uttered the expression of defiance now ascribed to him, although there is absolutely no doubt about the heroism of his tenacity.
I recently read Evan Thomas' biography of Jones. The impression I came away with was one of sadly wasted talent - Jones spent a great deal of the war on the beach, squabbling with various fellow officers and government officials. His action against the Serapis proved to be his one real moment to shine.
I still remember a ballad about the battle, although I don't know much about its origins. It goes:
An American frigate, called Richard by name,
Mounting guns forty-four, from New York she came,
For a cruise in the channel of Old England's fame,
With a noble commander, Paul Jones was his name.
We hadn't sailed far when some ships we did spy,
A stout forty-four and a twenty likewise,
And forty bold shipping all laden with store,
And that convoy stood in for the old Yorkshire shore.
Then Paul Jones did speak and to his men did say,
"Let every man fight a good battle today.
We'll take that bold convoy in the height of her pride,
Or the Richard shall flounder and sink in the tide."
The battle rolled on until bold Pearson cried,
"Have you yet struck your colors? Then come along side!"
But so far from thinking that the battle was won,
Brave Paul Jones replied, "I have not yet begun!"
We fought them eight glasses, eight glasses so hot,
That seventy bold seamen lay dead on the spot.
The shot flew so hot that they couldn't stand it long,
And the brave British colors came finally down.
Posted by Robert at September 23, 2005 01:49 PM | TrackBack