September 23, 2005
The evil that IS Glenn Reynolds
Apparently, blending up some tasty puppy smoothies isn't enough for some people:
RITA HAS WEAKENED SINCE YESTERDAY. THE EYE IS NOT AS DISTINCT AND THE CONVECTION IS NOT AS INTENSE AS 24 HOURS AGO. THIS IS CONSISTENT WITH THE CENTRAL PRESSURE WHICH HAS RISEN TO AROUND 927 MB AND WINDS HAVE DECREASED. THE INITIAL INTENSITY HAS BEEN ADJUSTED DOWN TO 115 KNOTS. UNLESS ANOTHER EYEWALL CYCLE OCCURS THAT COULD BRING THE WINDS TEMPORARILY UP A LITTLE BIT...THE OVERALL TENDENCY IS FOR RITA TO WEAKEN GRADUALLY. SO FAR THE PASSAGE OF RITA OVER THE WARM EDDY IN THE GULF OF MEXICO HAS NOT RESULTED IN INTENSIFICATION. HOWEVER...RESEARCH SUGGESTS THERE IS A LAG IN THE ATMOSPHERIC RESPONSE. NEVERTHERLESS...RITA IS EXPECTED TO MAKE LANDFALL AS CATEGORY 3 OR...A LITTLE LESS LIKELY...CATEGORY 4 INTENSITY. UPPER-AIR DATA SHOWS THAT THE HIGH PRESSURE SYSTEM CONTROLLING THE MOTION OF THE HURRICANE IS ALREADY NORTH AND EAST OF RITA AND IS CENTERED OVER TENNESSEE.
Hmmmm, I can only think of one possible "high pressure sytem controlling the motion of the hurricaine" centered in Tennessee....
Now that you think about it, creating menacing hurricanes is one of the powers attributed to the Dark Lord in Harry Potter....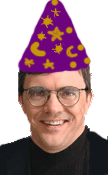 Glenn Harlan Reynolds, aka Lord Voldemort
Posted by Steve at September 23, 2005 12:42 PM | TrackBack