October 13, 2004
Curt Schilling Violates Porkins' Law
Porkins: I've got a problem here...
Biggs: Eject!
Porkins: No! I can hold it!
Biggs: Pull up!
Porkins: No! I'm alrigh..AAAAARRRGHHH!!!
[Boom]
Yankee Death Star 1, Rebel Alliance 0
UPDATE: At least the Imperials got a scare. And the Rebel Squadrons are still comin' for ya, Darth.
YIPS from Steve:
Unfortunately, this is closer to the truth: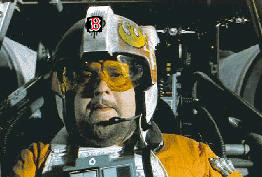 FURTHER YIPS from Steve:
The Silver Fox goes with a different movie analogy.
Posted by Robert at October 13, 2004 08:18 AM | TrackBack