August 21, 2004
Olympic Update!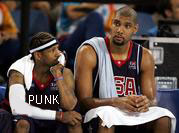 US Men's Basketball loses to Lithuania.
For some reason, sports journalists still refer to them as "The Dream Team."
What should they really be called?
The Llamabutchers present the Top Ten Names for the US Men's Olympic Basketball team:

10. The Plump Chumps

9. The "Show me the money!" Honeys

8. The Brat Pack

7. The Four-Corners No-offense

6. The "Phelps aint fit to polish my Escalade" Sport-oes

5. Naismith's Nightmares

4. The Excuses Papooses

3. The Tame, Lame Blame Game Crew

2. The French Army

and the number one nickname for the US Men's Olympic Basketball Team of 2004:

1. The Washington Generals (the team that always gets embarassingly whupped by the Harlem Globetrotters)

Team slogan: We put the "ASS" in EMBARRASSMENT!

Posted by Steve at August 21, 2004 05:18 PM | TrackBack