March 28, 2005
"I'll Stand Downstream While Jim Wrestles the Man-Eating Tiger To The Ground."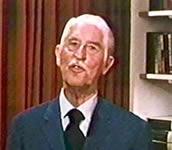 (Image courtesy of Snunk Pet)
Today is the birthday of Marlin Perkins, born this day in 1905.
The Boomer generation sometime talk of their collective memory of watching Howdy Doody when they were kids. I think there must a similar cultural commonality in Mutual of Omaha's Wild Kingdom for those of us who are a bit younger, especially those of us who caught it in syndication.
I'm forty now, but I can still plainly remember watching Marlin and Jim Fowler every Saturday evening at 6:00 or 6:30. Back in those days, when I felt like I was going to be seven forever, it seemed my parents always went out on Saturday night. (How well I understand why, now.) We kids would watch Wild Kingdom and eat our dinners while waiting for the babysitter to show up. Even now, I can taste the spaghettios and Handy Andy soda water, with Eskimo Pie for afters.
In one of our first experiences in learning to be tee vee critics, my brother, sister and I got very good at identifying what you might call the Gratuitous Manly Marlin shots - Marlin sticking his head out the side of a chopper to walkie-talkie somebody, Marlin looking noble and concerned beside the big fellah bull elephant just collared and tagged, Marlin judiciously considering how to go about getting a grip on the deadly-poisonous snake from behind. But we were quick to notice also that, for all Marlin's posing, it was usually poor old Jim who did the dirty work. (Hence the title of this post, which is also a long-standing family joke.)

Posted by Robert at March 28, 2005 02:15 PM