March 28, 2005
Gratuitous Domestic Posting (TM) - Outdoor Division
This weekend, the Llama-ettes and I got out into the garden for the first time this season in order clean things up a bit in anticipation of the spring growth.
Here's a question for all you green-thumb types: There is a particular kind of weed, a low-growing, expansive plant. It has lots of spade-shaped, highly textured leaves of a half-inch or so and produces stalks of about five or six inches with tiny pinkish-purple flowers. Does anyone know what this is?
Whatever its name, I consider this blasted weed to be one of Nature's low blows: The fact that it continues to grow all winter is bad enough. The fact that it flowers in the winter is positively iniquitous. In an equitable world, once the garden goes dormant, one ought to be able to ignore it for the season and not have to plunge one's hands into freezing cold mud in order to keep the place from being overrun with weeds before spring even starts.
UPDATE:
Here's the bastard: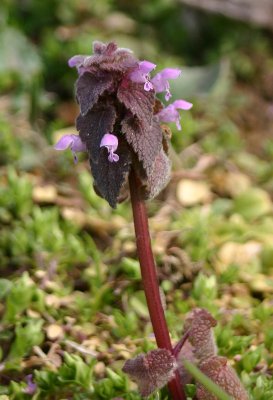 The Purple Deadnettle. Apparently, they're members of the mint family. That figures. Here are some more pictures. And here is a recommendation on when it's best to zap them (which, apparently, is right about now).
Yips! to Mixolydian Don who put me on the deadnettle track.
Posted by Robert at March 28, 2005 10:54 AM