August 31, 2005
Gratuitous Llama Netflix Virgin Movie Review #1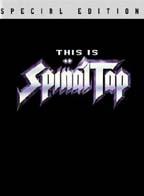 I'd never seen it before and I suppose I should have waited until I was feeling a little better before watching it. I certainly thought it was amusing and extremely well done (on many different levels), but the only time I actually burst out laughing was when Nigel started riffing Boccherini in the middle of his guitar solo. (Oh, also when he was talking about his "Mach" piece.)(Well, okay, also during the Stonehenge concert.)(Well again, okay, when the bassist couldn't get out of the coccoon thing.)
I can well understand why people watch this movie over and over again - there are countless little throw-away lines and expressions in the dialogue worth remembering and cherishing. I think one would have to watch it many times just to pick up on all of them. As I say, though, I was still a bit under the weather last evening and a lot of this simply washed past me.
Other random observations:
- I couldn't quite get over Meathead as Marty DiBergi. But that's just a personal twitch.
- Michael McKean looked like the Adam West of Heavy Metal.
- Fran Drescher? Whatever happened to her? Actually, I don't really care, so long as I don't have to hear that trademark laugh of hers.
- Paul Shaffer looked like Gollum in those days.
- Okay, the whole business with the Mimes was about 20 seconds of sheer comic delight. Add that to the list of things that made me laugh.
- If they could get John Steed into the film, it's too bad they couldn't also swing Emma Peel. But I suppose that's asking too much.
VERDICT: Definitely worth it. And I'll certainly see it again.
UPDATE: The whole time I was watching Spinal Tap, I kept thinking of The Rutles. I've never seen their tee vee special, but I've had their album for a long time and have always loved it, in no small part because it so often danced along the line between extremely good parody of the Beatles and extremely good knock-off of the Beatles.

Posted by Robert at August 31, 2005 10:18 AM | TrackBack