March 01, 2005
More Gratuitous Musickal Posting (TM)
Ye doome of ye commercial classical music station listener is ycomme true: It was only a matter of time before I heard Pachelbel's Canon. We hates Pachelbel's Canon. With all the other beautiful examples of the form readily available, why did the popular culture have to seize on this one?
Nrrrrgh.
Anyhoo, my Dad asked me to send along the information on the musical biography I am reading, so here it is: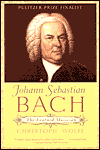 Johann Sebastian Bach: The Learned Musician by Cristoph Wolff.
It is a very, very good book, meticulously linking together all of the genetic, biographical, cultural and educational influences that went into the making of Bach's genious. If you ever wondered just how many Bach family members there were scattered about Thuringia in the 18th Century, all of them working away industriously at their craft (most of them very successfully), this is your source.
Reading serious scholarship about Bach's music always makes me feel somewhat dizzy, rather like reading a scientist's description of quantum physics. There is just so much evidence of superior talent and intellect there that I can well appreciate the plausibility of Douglas Adams' alternate explanation of the origin of the man's music at the end of his Dirk Gently's Holistic Detective Agency.
Such reading also makes me feel like a bit of an a complete idiot whenever I try to sit down and stumble through Bach's music myself. The last piece I ever seriously studied was the English Suite No. 2 in A minor, and even there I was primarily concerned with performance, not theory. That was something like 22 years ago. These days, when all I do is sight-read, I know full well that I am only "getting" about 1% of Bach's musical thought, the rest of it whizzing right past me as I focus my full attention on just trying to get my ten thumbs to land in the general neighborhood of the keys they're supposed to strike.
Posted by Robert at March 1, 2005 03:14 PM