February 16, 2005
White Trash Wednesday - An Apology
Don't that just unplug yer heatin' pad? I got nuthin' for WTW. Fact is, I didn't even know I was doin' it until I finally checked the Mailsack a while back.
Not that we aren't game: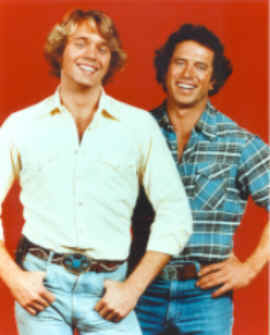 Steve and Robbo in Former Lives
I'll catch y'all on the come-back. In the meantime, go check out these good ol' boys n' girls for all yer redneck needs:
Beautiful Atrocities
Cranky Neocon
Cry Freedom
Dangerous Logic
Fistfull of Fortnights
Fragile Darkness
Hector Vex's Infotainment
It Is What It Is
My Vast Right Wing Conspiracy
Rachel Ray Redux
Riehl World
Six Meat Buffet
Ebb & Flow Institute
Jawa Report
Vince Aut Morire
Y'all come back now, y'hear?
YIPS from Steve: Uhhhhh.....yeah......I guess I should have mentioned that. My bad.
Based on our post the other day about lobsters feeling no pain, I want to do an ode to that bastion of the petite bourgeois, la langoustine rouge.
STEVE THE LLAMABUTCHER EXPLAINS, "HEY, WHAT THE HECK IS THE DEAL WITH RED LOBSTER, ANYWAY?"

Ah, Red Lobster, your mystery is divine.

My first real experience with Red Lobster came on the day of my 35th birthday. In the middle of the journey of my life I had found myself astray in a dark stretch of I-95, where the right road had been lost sight of.

I came upon a hitchhiker (and seeing no visible hooks, and hearing no sinister music), I picked him up, and let him guide me to the next exit, where I saw your sign beckoning in the mist.

It was the exit for South of the Border, and I recognized what it was right away: the very gates of hell. And so I turned to my restless hitchiker and said, "Hey, Virg, it's Tuesday, right? It's all you can eat shrimp and pasta bar, $5.95!"

Six hours later we emerged, into the sky painted by Aurora herself, smelling of congealed butter and a merely pedestrian pesto/garlic mix. Bea, our waitress, came outside for a smoke, and to slip the hitchiker her number scrawled on the back of a Motel 6 matchbook. I smiled. It was good to be alive.

Yips from Robbo! Way to watch my six, pardner!
Posted by Robert at February 16, 2005 12:29 PM