August 19, 2005
CRAP! THEY'RE ONTO US! or, "MISS SCARLET ROVE, IN THE CONSERVATORY, WITH THE SITH MIND TRIX"
What will we do now----the DUers are onto our toppe sekrit plans to use drugs and Sith mind tricks to give Harry Reid and Cindy Sheehan's mom strokes in the same week! Our old pal Confederate Yankee fortunately set off the buzzer to advise us all to act normally.....
You know what I'd love? A special DU version of Clue, with Karl Rove on every suspect card.
Personally, I think he'd make a very fetching Miss Scarlet. Not to mention a darn sexy Mrs. Peacock.
Of course, they'd re-name the game Unmasking the International Zionist Conspiracy to Make Magic Weed Illegal in AmeriKKKa or something.
UPDATE:
Some things are so wrong they must be done. This is one of those.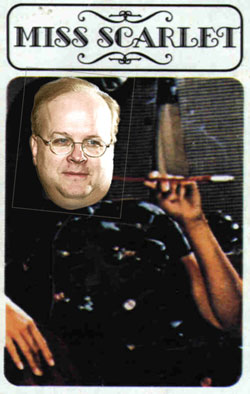 Posted by Steve at August 19, 2005 09:58 PM | TrackBack