January 29, 2005
Why I love the Blogosphere
So I wake up around 430, and for the life of me I can't fall asleep, so I go downstairs, fire up the computer, delete a couple hundred spams and stupid emails from colleagues lacking lives that have collected over the past, ohhh, day or so, and then decide to let it rip a bit and poured it all into the post below where I tried to lay it on the line, man, speaking truth to power, and trying to uncover the procreative conspiracy that is Nick at Nite.
And who comes to visit your humble LLamas while I'm doing this?
Someone looking for nude pics of Juliet Huddy.
So let me get this straight: you're in the central time zone, where it's six in the morning, and you're on the first cup of coffee of the day, and you're thinking to yourself, "hey, I've got the greatest research tool known to human history at my fingertips: let's see if I can find nudie pics of one Juliet Huddy!"
I've only got one word for you, buddy: Get a life!
Okay, that's three, but you get my drift.
UPDATE: It takes a brave LLama to admit when he's wrong. I had no idea who Juliet Huddy was, so I googled her and came up with this: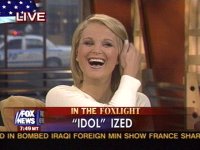 Okay, she's no Tina Fey, but suddenly it's making sense. But still, dude, 6 am saturday morning is pancake time, not porn time.....
Speaking of which, time to start making the pancakes.
Posted by Steve at January 29, 2005 07:33 AM