January 25, 2005
She's BAAAA-AAACK!!!!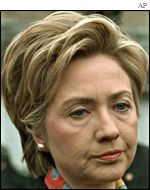 Hillary apparently is launching her '08 run with a piece of triangulation into the political middle ground on the issue of abortion.
The headlines regarding Clinton's speech yesterday marking the anniversary of Roe v. Wade focused on her call for more efforts to reduce the number of unwanted pregnancies, particularly among teenagers, as a way to reduce the number of abortions. As the NYTimes breathlessly noted, she also praised the work of pro-lifers in these efforts. All well and good. But here is the subtle money quote:
"There is an opportunity for people of good faith to find common ground in this debate - we should be able to agree that we want every child born in this country to be wanted, cherished and loved," Mrs. Clinton said.
Well, yeah. I mean, who wouldn't want this? But while such rhetoric is fine for pro-lifers with respect to preventing unwanted pregnancies, it is completely contrary to their position with respect to dealing with such pregnancies after they occur. The pro-life objection to abortion is not based on the notion that an unborn child should be protected because someone (whether the mother or otherwise) wants it, but because of its own inherent right to such protection as a human being.
Ann Althouse thinks Clinton's use of this language here is flawed. I think it's a trap. Mrs. Clinton knows perfectly well that there is no "common ground" agreement of this sort between pro-life and pro-choice partisans with respect to abortion itself. By tossing out such a sugar-coated rhetorical plea in a manner that blurs the philosophical distinction between pregnancy prevention and termination, I believe she is trying to bait pro-lifers into overreacting and painting themselves as cold, harsh and unreasonable, all the while pumping up her own seeming moderation and protecting her pro-choice creds.
It strikes me that Hillary has learned a thing or two from hanging around Bubba all these years. It also strikes me that I am growing increasingly apprehensive about this woman.
Posted by Robert at January 25, 2005 01:21 PM