January 12, 2005
Tradesports on the Iraq election....
They don't have markets on who will win, but they do have a market on whether the election will occur as scheduled. The contract is currently trading at $86.7, indicating a very high likelihood.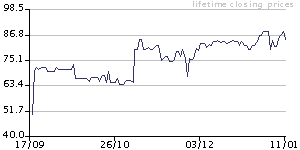 EXTRA SPECIAL LLAMA BONUS!!!
Now's your chance, if you can sit on the trade for 3 1/2 years, to buy Mark Warner as the Democratic Nominee for $8.

Posted by Steve at January 12, 2005 11:14 PM