November 09, 2004
More (Hint) Thoughtful (Hint, Hint) Christmas Book Giving (Hint, Hint, Hint)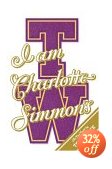 Tom Wolfe's latest broadside, I Am Charlotte Simmons.
Any of this Llama's nearest and dearest wondering what to do with this information might consider going here.
UPDATE: Yes, I read Michael Dirda's review in the WaPo this weekend. And yes, I read Michiko Kakutani's review in the NYTimes. Even given the obvious distate of such critics for a writer like Wolfe, it appears this may not be his best work. Eh. The mark of a master is that you'd rather read his second-rate stuff than the best that lesser lights can produce.

Posted by Robert at November 9, 2004 04:15 PM | TrackBack