November 01, 2004
And so it begins
Today is absolutely beautiful outside---warm, sunny, leaves around, very collegiate. Both morning classes we went outside, sat out on the lawn in front of our building, and talked about nothing except the election. Neither is a direct politics class (Foundations of Law & Society and Politics of Legal Order) but hey, what else are you going to talk about today?
I did do something silly, though, which was answer a question about what I thought would be the outcome:
286 Electoral Votes for Bush
Bush wins the popular vote, but doesn't crack 50%
GOP picks up 3 seats in Senate
One of the more precocious students asked what I was prepared to do if I was wrong (she was kidding, I think.) Anyhoo, I offered to eat the piece of paper she just wrote it down on---not the whole thing, mind you, just the part with the projection on it, and only the electoral vote one at that. And I reserved the right to put it in a sandwich. Needless to say, all the students began to scribble down the number but I said no, just that one original piece.
So there you have it.
Hopefully, I won't have to eat it with any ketchup, so to speak.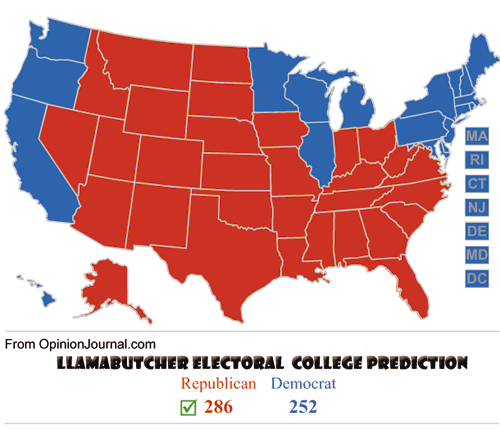 What do you think is going to happen? Drop us a note in the comment section or in the Tasty Bits Mail Sack and the winner will get a one day's supply of Rice-a-Roni, the San Francisco Treat!
Posted by Steve at November 1, 2004 12:59 PM | TrackBack