October 25, 2004
"hunk of Burning Love" Watch
Kathy the Cake-Eater wants her man back. Like, now.
As my mother would say, I don't have the genes to appreciate these things.
On the other hand, I agree with Kathy that this looks like trouble.
YIPS from Steve: This is one of those bizarre times when you know something you are doing is wrong, yet still you must do it!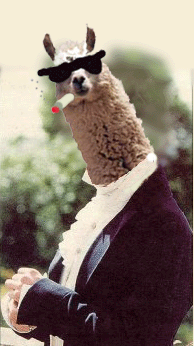 Kathleen tried to provoke me by exposing the llamas having some back-waxing fun with Ed Asner. THIS is what happens when you mess with us!
Fundamentally, Foghat was wrong: Fear the LLamas!
Posted by Robert at October 25, 2004 12:50 PM | TrackBack