October 20, 2004
Snow Sox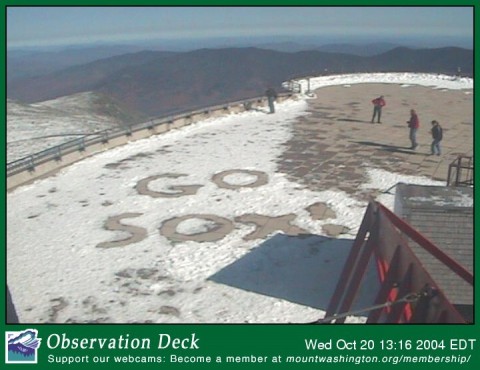 Good photo taken today from the Mt. Washington Observation Deck.
I've never been up there, despite having knocked around New England a goodish bit. We have a place on Orr's Island, Maine. (Click here to see an old-timey postcard of "The Grotto" - our house is literally right on top of it, over your right shoulder in this view.) Anyhoo, when we go up to visit the 'rents, we almost invariably take the kids for a ride around Casco Bay on the ferry that runs up from Portland every day. It's 90-odd miles from Mt. Washington, but on a clear day you can see the mountain from the water line quite plainly. Very cool.
Yips! to the Irish Elk.
Posted by Robert at October 20, 2004 02:41 PM | TrackBack