October 12, 2004
There will be a parting of the ways for the next ten days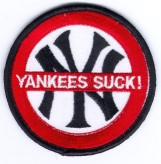 Michele and the Leather Penguin are two blogs we admire and enjoy, but....they are terminal Yankees fans. As Dick Cheney would say, big time. So for the next week or so of the American League Championship Series, we are technically at war.
In the meantime, if you want online videos of Islamic beheadings? Go check out the Sandcrawler. But if you want all things Red Sawx---Pedro's midget mascot, Bambino curse updates, info on Fenway, check out the Irish Elk or Tainted Bill. In the meantime, I'll be hiding under the bed. Someone wake me in about a week.
Yips! from Robbo: Make sure to check out Dan the Silver Fox for all your Bosox/Clint Eastwood needs!
Posted by Steve at October 12, 2004 11:48 AM | TrackBack