September 21, 2004
Yeeee-Haaaaw!!!!
Remember that scene in Star Trek: First Contact where Cochrane, Riker and Jordi blast into space in Cochrane's first warp-drive ship with "Magic Carpet Ride" pounding in the speakers? Well that's how I feel today as the altimeter soars past 50,000 hits. Thanks to everyone who's made this possible. I'm at once delighted and mystified that this collection of bubble-gum and baling-wire ever made it off the ground.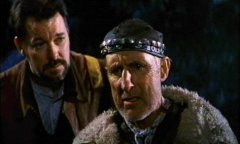 Steve and Robbo in the early days: "Wait, how do you spell 'Blogger' again?"
Meanwhile, another milestone has been passed by Gordon the Cranky Neo-Con, who hit the big 10,000 today. Go on over and congratulate him.
Yip! Yip! Yip!
Posted by Robert at September 21, 2004 04:25 PM | TrackBack